DELIVERING FOOD AND ESSENTIALS DURING THE CRISIS A Transport and Logistics Partnership enhances food security and ensures the supply of essential products in Central Asia
"It is especially critical to keep cargo moving during the quarantine and the state of emergency implemented by most countries of Central Asia due to the COVID-19 pandemic," says Larissa Kislyakova, the Chairperson of the Central Asia Transport and Logistics Partnership supported by USAID. "We need to ensure food security, replenish stocks and reserves, deliver medications, humanitarian aid, and other essential supplies. That's why supply chains need to work without any delays."
Larissa, who lives with her family in Dushanbe, Tajikistan is an expert in trade and transport services with over thirty years of experience in international trade. For many years she worked in the government's civil service. Larissa serves as the Chairperson of the USAID-supported Central Asia Transport and Logistics Partnership,a two-year position which rotates from country to country.
"The Partnership allows us to discuss similar problems we face in each country and help with finding partners to export and import products," says Larissa. The Partnership, created in 2016 with USAID's support, is an informal network of over 150 Central Asian transport and logistics companies. "We monitor solutions that proved effective in the region and implement similar measures at the national level."
Members of the Partnership created a plan to tackle identified issues. "The first priority was to analyze the legislation in countries of Central Asia. Our countries had signed conventions and agreements that were meant to simplify the procedures on the roads but in reality they were not implemented."
Larissa at the Transport and Logistics Partnership meeting in Nur-Sultan, Kazakhstan in 2017. Photo credit: Assel Choibekova for USAID.
"We've provided suggestions to improve current legislation. Our work pushed the Tajikistan's government to take action," says Larissa. In her work, she actively engages with the authorities. "Many business owners are hesitant to speak up because it might backfire and hurt their business. I don't own a business that is why it is easier for me," shares Larissa.
USAID supports the Partnership by providing visibility to amplify key transport issues and by including the Partnership members in trade missions to link Central Asian transport and logistics companies to counterparts in Latvia, Lithuania, and the United States. USAID's Competitiveness, Trade, and Jobs in Central Asia project is also providing legal advice to the Partnership in its pursuit to become a formal legal entity and ensure its sustainability.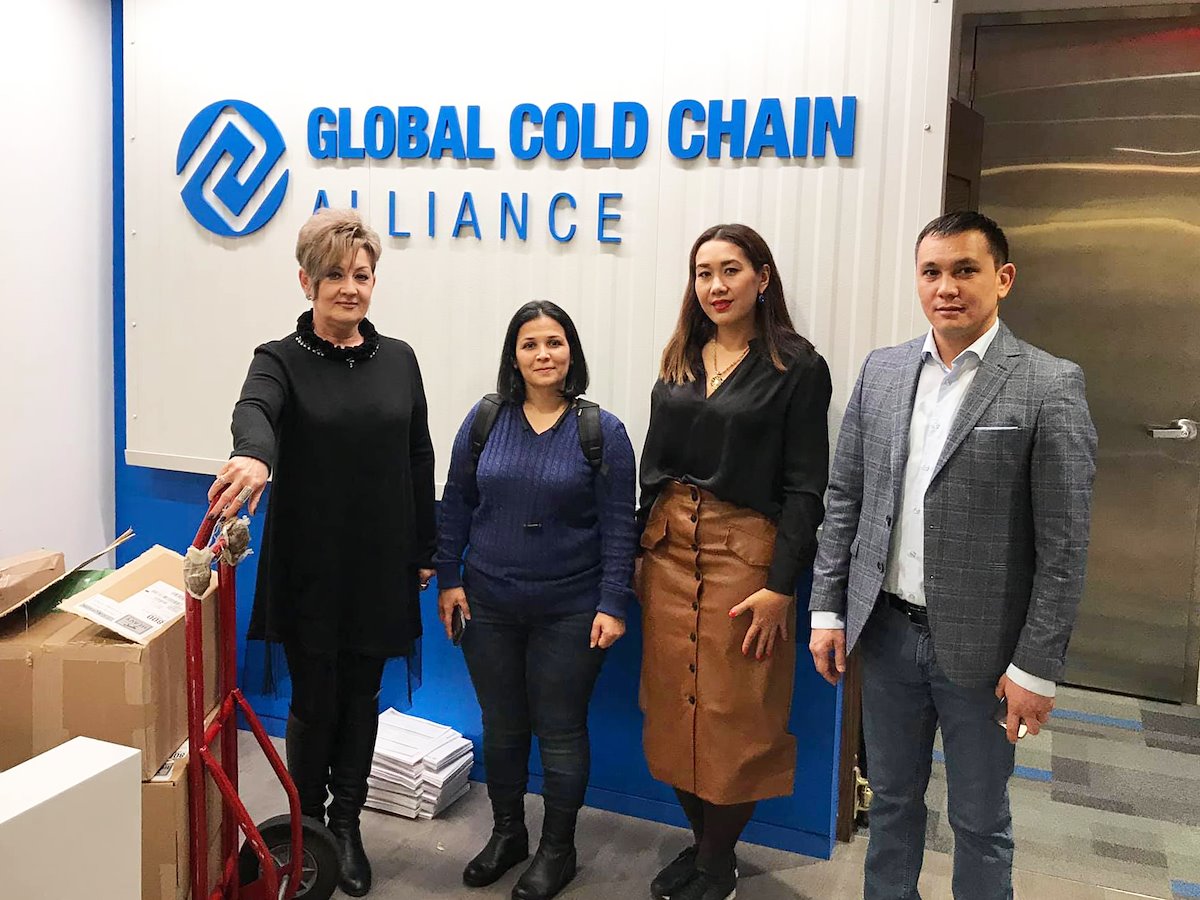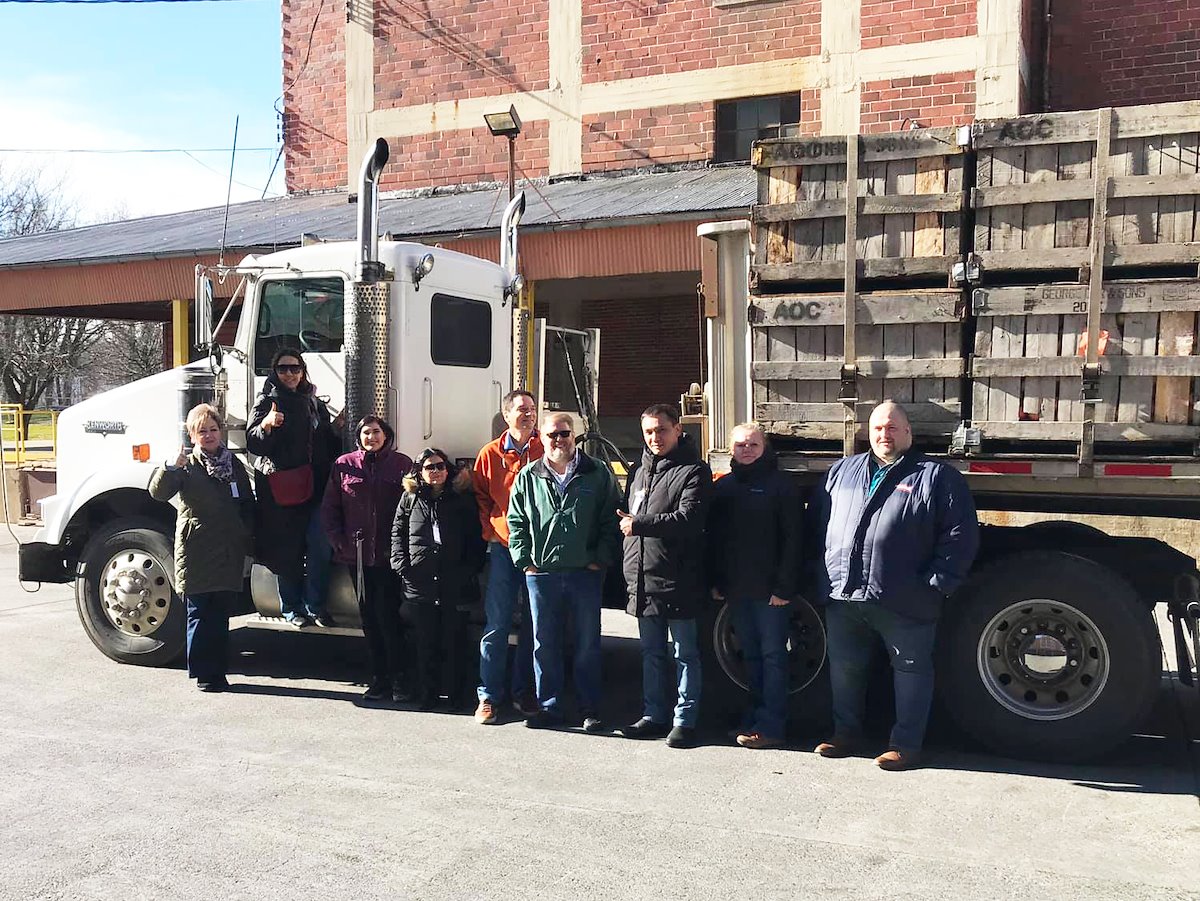 Supported by USAID, Central Asia transport and logistics sector representatives traveled to the U.S. to explore best practices of modern cold chain facilities at the headquarters of the Global Cold Chain Alliance in December 2019. Photo credit: from personal archives.
"Quarantine and restrictions due to COVID-19 complicated our work. We don't want delays with the delivery of perishable and essential goods," says Larissa. The Partnership monitors the situation at the borders to ensure drivers have accurate information. "If the borders are closed due to COVID-19, we search and offer alternative transit routes," says Larissa.
The Partnership is using their WhatsApp group to address urgent and priority issues. With USAID's support, the Partnership initiated a weekly Skype discussion among its members on the impact of COVID-19 measures on regional supply chains. Companies from Kazakhstan, the Kyrgyz Republic, Tajikistan, and Uzbekistan discuss the immediate impact of measures restricting the spread of COVID-19, including closure and delays at border crossings and driver quarantine and explore potential risk mitigation measures.
"It is easier to show accomplishments when you only support 2-3 specific companies but the rest of the business may not receive the same help. We strive to create equal opportunities for the whole region so that all companies can reap the benefits of our work," shares Larissa.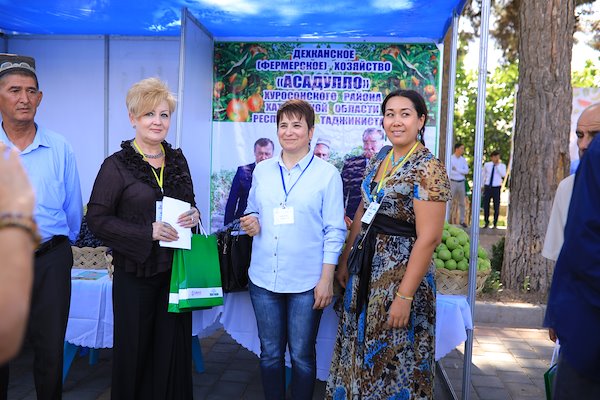 Larissa at the Khatlon Trade Forum 2018. Photo credit: Azim Rasulov for USAID.
"For instance, time is wasted on each side of the border for weighing the cargo due to lack of trust," shares Larissa. The Partnership is exploring with customs authorities how two countries can jointly examine cargo at their border crossing points. "As a result of this approach that we are planning to pilot later this year, we can decrease the paperwork, eliminate corruption, and save time and money," explains Larissa.
"Transport is not just a separate industry. In today's interconnected world, transport is at the heart of everything else and nothing will work properly if we don't have the right conditions to move cargo. This has become especially clear in the light of the pandemic," shares Larissa. "I am grateful that USAID supports the initiatives that are important for us."